APT Rubbish Clearance – is one of the UK's leading company of cost efficient waste management and environmental solutions in Eltham West, we strive to work sensibly
in partnership with our customers to help to reduce financial cost
and environmental impacts of their waste on carbon footprint. We provide the best and easiest waste management service for the to reduce, reuse, recycling,
recovery and disposal of any type of waste. We own and operate multiple trucks and garbage collection vehicles.
Our company delivering waste collection and junk removal services to builders, residential, commercial customers  in Eltham West with utmost dedication and speed service.
APT Rubbish Clearance can take care of essential waste removal side of your property after makeover care, house extension builders waste, unwanted furniture, clearing up your storage and garage.
Outstanding team of an responsive office staff and friendly drivers are ready to clear your upcoming rubbish in Eltham West, we will come to you to collect your garbage and trash and also we will help you to save money on your waste management. You will considerably benefit from our quick service and it is cheaper than skip hire.
Our aim is to cut down carbon footprint in UK and move towards 'Zero Waste' and we work with our clients to achieve this aim. We work closely to boost the maximum return on commercial and builders waste whenever is possible, reducing your costs against the hiring skip. This simply means you can be sure that you can get the best value from APT Rubbish Clearance.
We can collect and dispose waste consists of multiple commodities, from cardboard to aluminium, paper to polystyrene, we come to you to collect from your business, with a quick collection and loading process, we ensure that all the regulations are met and that you can relax and that you no longer need to worry about your trash anymore.
Our close concerns about the environment is our top priority in the correct management of commercial waste disposal, and we will make sure that your waste collection process is carried out to meet both the governmental regulatory requirements and also your expectations.
Our company is regularly used and contracted by major construction companies, small business, manufacturers service companies and third sector organisations. We are ready to help your to reduce your business waste or builders skip hire cost by working out the best solution for you.
When you call us about rubbish clearance in your area in Eltham West, make sure to ask about our other services and recycling solutions. When you book all the services you need from us in combination you'll be able to make some amazing savings.
List of services we deliver in rubbish clearance Eltham West:
House Clearance
Gardening Waste
Residential Electronic Waste Disposal
Domestic Rubbish Collection
Commercial Rubbish Collection
Building Waste Removal
Construction and building waste is made up of materials such as concrete, bricks and damaged wood timber or unused trimming and unwanted material produced by the construction companies. This includes building materials such as rubble, sacks of wood trimmings, wall insulation, plaster boards, nails, electrical wiring pieces, and also the waste extracted from site excavation, fundamental digging and materials such as dredging, tree stumps, mixed rubble. We don't remove construction waste which contains lead, asbestos, or other hazardous substances.
There is always a big potential to recycle the most of materials of construction waste. Often builder use plastic sacks and containers to store the waste. Rubble is normally can be crushed and reused in future construction projects. Timber and wood left over can also be recovered and recycled widely in UK.
UK Government or local environmental authorities often make certain rules regarding how much waste should be disposed and encourage to sort it before it is dumped or hauled away to landfills or other waste treatment stations.
The government institutions pays tipping fee to the environmental company for waste removal as a result to reduce the overall impact on the environment. The builders junk and construction waste is normally recycled to several portions of gravels that can be widely reused in construction sites alike sand can be reused again in multipurpose construction uses.
Consumer or business electronic waste in Eltham West may include white fridge, washing machine, dismantled computers, office electronic equipment like printers, entertainment media electronics, plasma and old type television , and cooling units. This includes used electronics which can be recycled and reused again prior to disposing. Other re-usable electronics can be potentially repaired and reused again, secondary scrap materials like  copper, steel, plastic materials which are normally dumped by consumer rather than recycled, including residue from reuse and recycling operations.
Some consumers deliberately leaving heavy electronics on the street which can be widely recycled, and non-repairable equipment are mixed in our loads of working equipment this shows the ignorance and wastefulness of consumers, we ensure to avoid disposing waste without separating and recycling. We collect and recycle valuable computer elements, working and reusable damaged laptops, desktops, and components like processors and rams can help pay the cost of tax payer.
There are some ISO standards related to recycling such as ISO 15270:2008 for plastics waste and ISO 14001:2004 for environmental management control of recycling practice.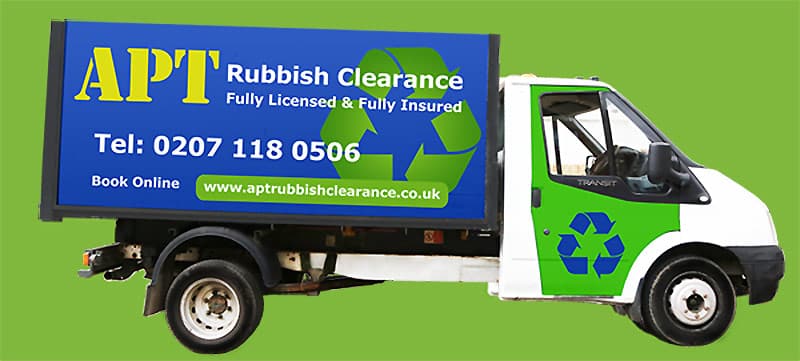 We will clear all your unwanted waste at a price within your budget. Cheaper alternative to skip hire. We offer our customers reliable and fast rubbish clearance services to to cut down your costs.
APT Rubbish Clearance Eltham West clear from Offices, Shops, Supply Warehouses, Hotels, restaurants , Office blocks and Building Sites or any commercial premises that you operate your business from. From single bag to whole buildings, we clear without the hassle of hiring skip hire. Our rubbish removal teams are available and swift to move quickly and efficiently to remove rubbish from business premises.

3 EASY STEPS TO CLEAR YOUR WASTE
CALL US ON

0207 188 0506

.
WE GIVE YOU A QUOTE ON PHONE AND ARRANGE THE BEST TIME SLOT FOR YOU.
WHEN WE ARRIVE AND WE WILL WAIT AND LOAD YOUR WASTE.
Why Choose APT Rubbish Clearance Eltham West
Need us urgently? Same-day rubbish removal services are available in Eltham West at no extra charge!
Here are some features that come with our service:
Full company insurance
Fully Licensed
Quick and efficient same-day service available
Special rates for ongoing services
Full service – loading, transportation and disposal
 Friendly & Quick Service
Our staff are friendly and quick, who will wait and load and remove your rubbish quickly and efficiently
We provide our services if you looking for a rubbish clearance, office clearance, house clearance or general waste disposal we operate in all areas. We are competitive and will negotiate to give you the best quote. Our services is easy and eco-friendly alternative to skip hire. APT Rubbish Clearance provides an eco friendly, fast and reliable service in Eltham West to help you dispose of anything that's too big for the bin. We clear carefully, with minimum inconvenience to you we make every effort to limit any mess, and we sweep up afterwards
 Major types: Biodegradable waste, Brown waste, Construction waste, Demolition waste, Electronic waste, Green waste, Industrial waste, Litter debris, Municipal solid waste, Post-consumer waste.